V is for Vendors.
Your book is constantly vying for attention – no matter the vendor.
There are different ways to sell your book. There are even different formats to sell your book in.
Currently I have one book published in Afrikaans. By July, it will be available in English too. But that one book is already in various editions: ebook via Kobo, ebook via Kindle, print on demand via Groep 7 Printers, print on demand via KDP and audiobook via Audioshelf (it will be available from other retailers next week).
That means this one book is already making money from five different streams of income. And when it is in English it will be double that. (And more once the audiobook is widely available.)
What does this mean? You can make a living with your writing.
You're probably asking what this has to do with vendors.
First: what is a vendor?
According to the Collins English Dictionary "a vendor is someone who sells things such as newspapers, cigarettes, or food from a small stall or cart"/ "a person who sells something"/ "a vendor is a company or person that sells a product or service".
Which means it can be you or someone selling your books on your behalf.
You already saw at the start of this post that Kobo, Groep 7 Printers, Kindle, Amazon and Audioshelf are all vendors who "work" for me.
For most authors, sticking to things online is the way to go. But if you are interested in doing more… read on.
There's this saying in sales: Value perceived is value achieved.
Business cards:
That's why business cards work for face-to-face sales: people feel that you've truly invested in your product. Sure, sales were fine before I got my business cards printed. But after I started handing them out, more sales (even from people who've previously demurred) came in.
I chose to print my cards through Webprinter. Besides their website being user-friendly, their service is professional, affordable and there are no hidden costs or weirdness. (I was ready to pay another service provider, but on the day I was going to do so, they suddenly doubled the quoted price. Ridiculous.)
I was able to make my own business cards via Canva, do all the conversion stuff to make it printer friendly online and Webprinter was more than happy to help me through the process. If I need promotional items printed, I'll definitely use them again.
Besides handing my business cards out to unsuspecting strangers, I also used them to fill the swag-bags at our annual Red Hat Society Birthday Bash. Funds are tight and there's not a lot of stuff you can get for free (or at a reasonable price) to give as party favours. But why not a cute business card that includes at least one of the society's colours? Besides, Redhatters like to know one of their own is "famous".
Back-of-room Sales:
A little bit about my experience of "back-of-room sales".
One: everyone isn't your customer. Not everyone there reads, not everyone there likes fantasy (especially dark fantasy), not everyone will support an Indie author. (I'm not even going to get into the snobbery of that last one.)
Two: I should've had my book in English already. A lot of readers there would've loved a book – but can't read Afrikaans. My bad. But they did take my business card and they were super excited about the July launch date for the English version. So there's probably a few readers waiting in the wings…
Three: even if you have already settled terms, make sure everyone is still on board on the day. Sometimes you have to be firm, even if you are doing someone else a favour.
Four: have enough change, have your EFT set up (know your banking details) and be ready to work with a lot of money (I took a friend with a head for numbers with to help me).
Five: have a striking image and a special discount to capture interest.
Six: you'll have to do a speech to get interest. I'm not a great public speaker, so I probably tanked sales even though the room was exceptionally quiet to listen to me. If you're not great with speaking to crowds, get someone to do it for you. (I already have someone in mind…)
Seven: don't expect your friends to support you (even though there's a bit of a social contract there…). Not all of your friends will support you. Some will even ignore you. And you know what: it's their problem. (I read that on the BadRedHead Media blog last week.)
Eight: make sure you have a photographer at the ready to take pictures of everything. You'll want to document this experience – and readers will love to take photos with you while they're holding their new, signed, book.
Nine: know that you're probably going to spend more money to get this event right than you'll make. But it's good networking with readers, it's a good way to get your name into their heads and even one good sale (to someone who will actually read it) is better than none (or worse: hundreds that only end up in file thirteen).
Ten: lock your feelings away. This might be a very social thing, but it's still business. If you allow feelings to get in the way, you will get hurt.
Now for a few photos of my "launch" of Eens…
You can always get your book into bookstores!
How?
Know how they buy books.
Most bookstores buy from wholesalers. You can get onto a wholesaler's catalogue.
If you are POD with IngramSpark then you will already be in the Ingram Wholesaler database.
If you chose "Extended Distribution" at CreateSpace, you will ALSO be in the Ingram database because extended distribution means that CreateSpace put your book in THEIR IngramSpark account.
If you are not POD, then you can apply to the wholesalers of your choice. Start by visiting these websites:
Ingram
Baker & Taylor
B&T Application
America West
Brodart
Follett (K – 12 and University Libraries)
(I got all these links and advice about wholesalers from TCK Publishing.)
You can always go the POD and ebook route too with aggregators like:
(I don't have any experience with any of them, they just seem to be the ones most authors use.)
Some independent bookstores buy from wholesalers and sometimes buy directly from authors.
I did an interview with Deborah Du Plooy, Events Co-ordinator at Skoobs, Theatre of Books.
What is Skoobs?
Skoobs ("books" spelled backwards) is a bookshop that just happens to have a champagne bar and a coffee shop.
Tell us a bit about the book launches you host.
Over the last 3 years we have launched over two hundred self-published and published authors in the store. We also host weddings, parties, business book clubs and a myriad of other events in the store.
How do Indies get their books in your store?
They host an event, in other words: do a book launch at Skoobs.
Is there a great demand for Indie books?
Yes, there are indeed.
Can Indies make money from selling books in bookstores?
Yes, they can. They should attend our indie author networking event which is held once a month on how to do this in Skoobs and other stores. We also cover all the other questions Indies have.
Do you focus more on carrying fiction or non-fiction titles?
We carry all genres of books.
You told me you are a great supporter of South African authors. What do you wish readers knew about South African authors?
That they are writing the most magnificent stories that are relevant to South Africa.
Anything else you want authors or readers to know?
Support South African authors, become book buddies to people that cannot read. 78% of grade four learners in this country cannot read, so authors have a responsibility to society to be accessible and teach people to read. Readers should do the same. The greatest of all educators are books.
I attended a book launch at Skoobs, and it was a lot of fun. Here's a tweet I sent out about it:View image on Twitter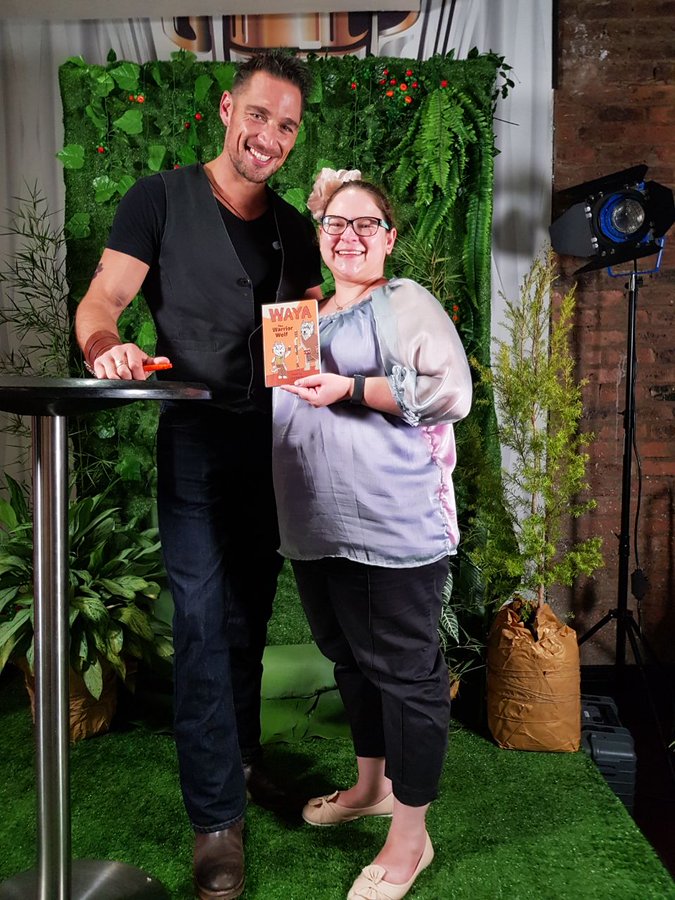 Attended #booklaunch of "Waya the Warrior Wolf" by @PaulRothmann1 yesterday at Skoobs. Had lots of fun and got a new #mustread book. #writerslife
See Ronel Janse van Vuuren's other TweetsTwitter Ads info and privacy
[I'll talk more about it in this month's newsletter – remember to sign up and receive your free ebook!]
Here are a couple of useful articles on selling your book:
IngramSpark has a great blog post on how to sell to independent bookstores. Well worth a read.
ALLi (Alliance of Independent Authors) has a post (and book!) to get your self-published books into bookstores.
The Creative Penn has a post on how to promote your first book – with lots of interesting info that you can use for your other books, too.
"5 Things This Self-Published Author Did to Sell Over 20,000 Books With Almost No Money" sounds almost too good to be true, but what he did makes a lot of sense.
"How to Sell 1000 Copies of Your Self-Published Book on Day One" sounds impressive by any standards. Listen to the podcast (or download the transcript) to learn how to sell more books.
"10 Reasons Why Self-Published Books Don't Sell – and What You Can Do to Ensure Yours DOES" gives precise advice on what you shouldn't do and what you should. A great checklist.
"5 Profitable Places To Sell Your Books" includes bookstores (as mentioned above) and a few "non"-bookstores that can work really well, like hair salons (people are captive for at least 20 minutes. Mwha-ha-ha.), museums, workshops, back-of-room sales (as mentioned above), speciality stores, and even libraries (I'll have to check that one out!).
"Author Convention Kit" with everything you need for conventions and back-of-room sales.
There are probably more ways to get your books into the hands of readers – and get paid for it. I'd love to hear what you've done to up sales. Have you used any of the vendors discussed? As a reader, how do you prefer getting your books?
Sign up for my newsletter and receive a free ebook. I won't share your information and I'll only email you once a month with updates on new releases, special offers, and a bit of news.